Article Sections
Overview
Received a message through the platform? Congrats!
Now it's time to decide if you want to continue the conversation or if the mentee is just not a good match for you. We'll cover how to view your potential mentee's profile, how to reply and schedule a meeting, and how to decline a connection request if you don't feel it's a good match.
---
Review the mentee's profile
There are a couple ways you can access your mentee's profile - from the email notification you received or by logging into your platform inbox and clicking their profile image. We'll go over both below:
Option 1: View their profile from the notification email
In the email notification you received, look for and then click the blue "View Profile" link.
Option 2: View their profile from your platform inbox
Log into the platform and go to your inbox
Click on the relevant connection request
Click on the profile image of the person who reached out to you
---
Continue the conversation in your platform inbox
If you've decided you'd like to accept the connection request you received, you can reply to the mentee's message and accept their proposed meeting (if they scheduled one) or reschedule it as needed. You can do all that from your platform inbox, where you can access your conversation threads as well.
In your platform inbox, you'll be able to:
Respond to ongoing conversations
Schedule, accept, and decline meetings
Initiate video calls
and more...
Learn more about how to use your platform inbox here.
Access your platform inbox by clicking the envelope icon in the upper right of your screen.

---
End the conversation
It's ok if you don't want to take on a particular mentee! Maybe your schedule got busier than you expected, or maybe you don't think the mentee is a great fit. That's perfectly fine.
Below we'll go over how to decline a request and how to include an optional message to the mentee letting them know why you did so.
How to decline a request
1. Go to your platform inbox.
2. Go to the relevant conversation thread.
3. Click the grey "X" above the conversation.
4. Confirm that you want to close the mentorship. Once closed, mentorships can't be reopened unless by a site-admin.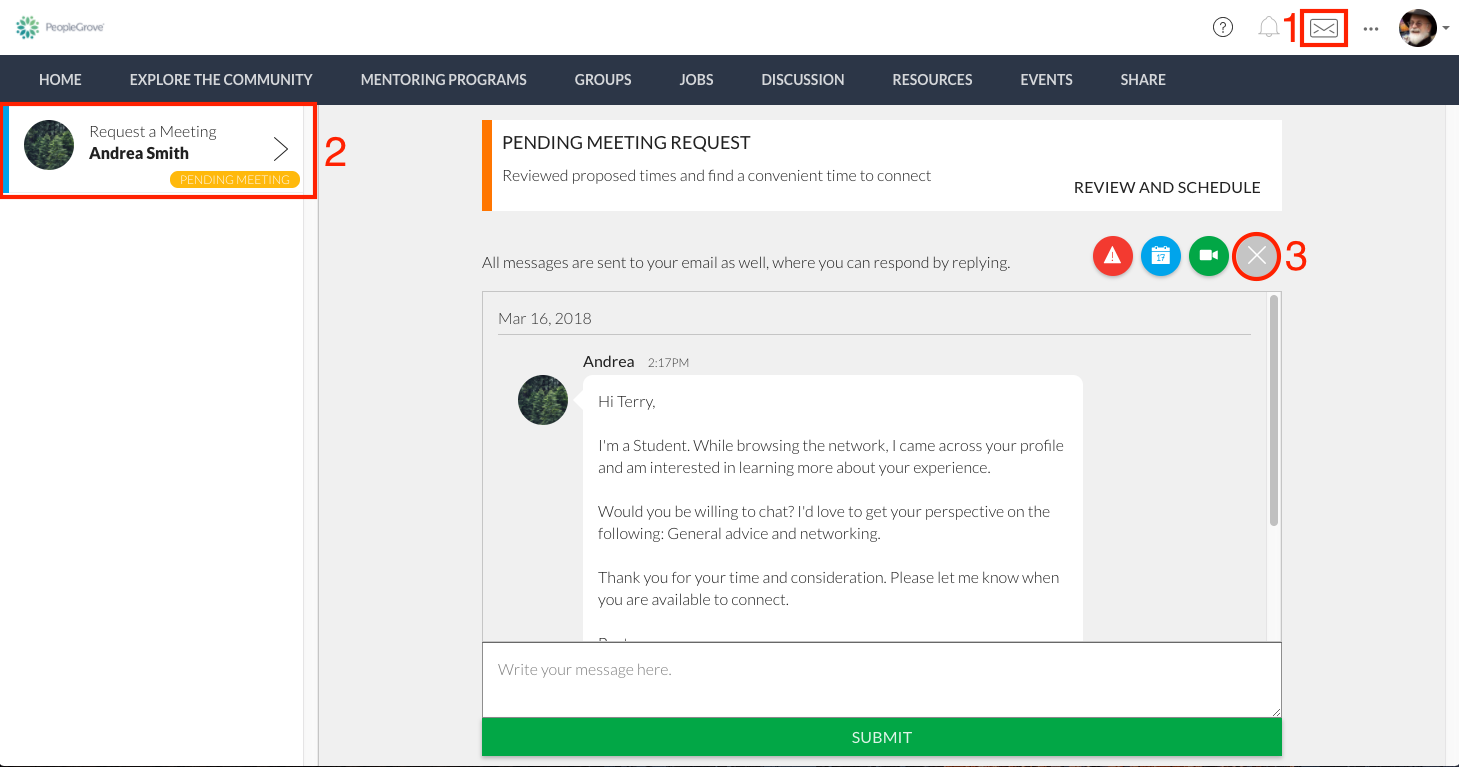 How to include a message to the mentee
You can decline connection requests from within the email notification you received letting you know someone reached out to you, but if you want to respond to the user before declining their request, you'll need to go into the platform itself. Once there:
1. Go to your Inbox.
2. Open the message thread which you'd like to reply to before decline.
3. Click the "View/Edit Request" text below the message itself.
4. Click the link in the "If you want to decline this request entirely, click here" text.
5. Enter your message to the user, then click the "Decline" button - the message thread will be closed and neither you nor the user will be able to communicate through it any longer.